4x4 HDMI 2.0 Matrix Switch 4K | 1080P
Avico professional 4K 4x4 HDMI 2.0 Matrix Switch with 4 HDMI inputs, 4 HDMI outputs, and 4 SPDIF audio outputs.
This Matrix Switch is designed for switching eight HDMI 2.0 and HDCP 2.2 compliant signals and is compatible with previous versions of both protocols. It also provides powerful EDID management (auto detect or manual adjustment) to ensure reliable AV distribution and routing.
You can control the unit via the front panel, IR, RS232, TCP/IP and a web-based GUI.
The Avico 8x8 HDMI 2.0 Matrix is a versatile device that lets you transmit video content from up to eight HDMI input sources to eight different outputs such as TVs, monitors, projectors, and more. It is widely used in various settings, including conference rooms, control rooms, auditoriums, and entertainment lounges to connect multiple video sources such as computers, Blu-ray players, gaming consoles, streaming devices, security cameras, and more.
With the Avico 8x8 Matrix, you can distribute the video content to any of the eight outputs, either by mirroring the content to multiple displays or transmitting the video signal to a specific display. The device supports downscaling 4k content to 1080 for mixed displays, making it compatible with a wide range of devices. Additionally, it can stream 4k content on 4k capable outputs, providing a high-quality viewing experience.
Whether you are looking to create a seamless presentation in a conference room or enjoy a movie night at home, the Avico 8x8 HDMI 2.0 Matrix is the perfect tool for distributing video content to multiple displays.
Max. resolution up to 3840*2160@60Hz.
Each HDMI output can share same input or select standalone input.
Smart EDID management, make it compatible with most display devices.
Matrix status could be memorized after power down, automatically restore previous matrix status after next power on.
Easy control matrix via IR receiver, front keypad, RS232 Commands and WebGui (via LAN or RS232 port).
Easy to view real-time input and output status via LCD display.
Supports configurable user preset connections.
HDMI Compliance: HDMI 2.0 - 18.00 Gbit/s
HDCP Compliance: HDCP 2.2 and HDCP 1.4
HDMI Audio Formats PCM2.0/5.1/7.1CH, Dolby Digital/Plus/EX, Dolby True HD, DTS, DTS-EX,DTS-96/24, DTS High Res, DTS-HD Master Audio, DSD
Coaxial Audio Formats: PCM2.0, Dolby Digital / Plus, DTS 2.0/5.1
HDR Support HDR10, HDR10+. Dolby Vision, HLG
Power Supply Input: AC100~240V 50/60Hz Output: DC12V/2.5A (Locking connector)
Mixed Media Mode Display any of the four video sources to any four connected displays. Video downscale feature allows the source to be played at full 4k resolution to 4k capable displays or downscale to 1080 to comply with 1080 monitors.
Mirror Mode Splitting any input source to mirror to up to four displays. Video downscale feature allows the source to be played at full 4k resolution to 4k capable displays or downscale to 1080 to comply with 1080 monitors while not downscaling the other displays.
WebGui Control The WebGui grants access to a wide range of options, including resolution controls, audio controls, video selections, preset commands, & System controls. Once you have the Matrix connected to your network, open a web browser on the same network and type in the IP to the browser. The WebGui is browser based so it can be opened on a computer, phone, tablet, etc. any device on the same network with a web browser is supported.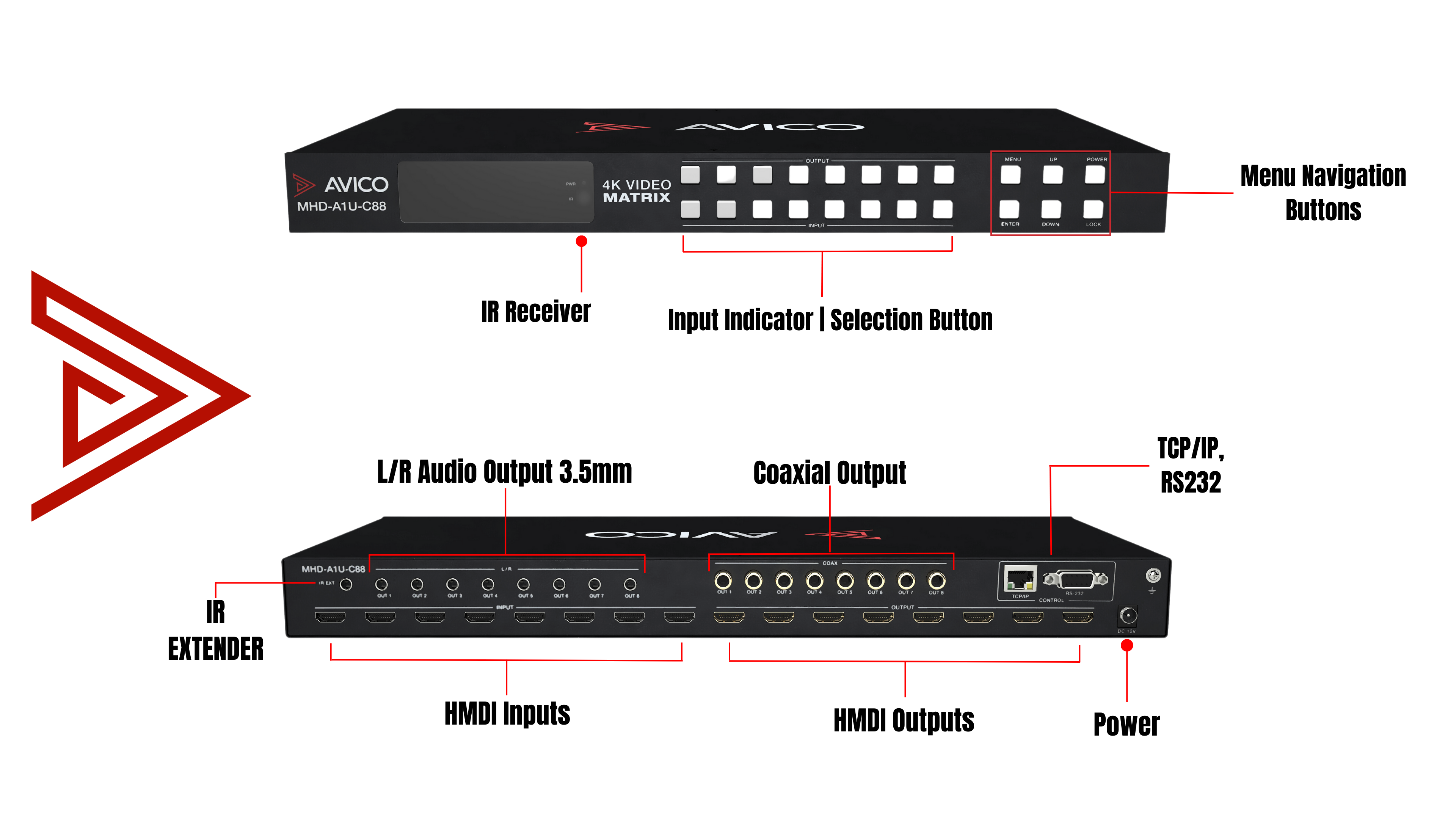 1- 8x8 HDMI Matrix
1- 12v Power Adapter
1- IR Remote
2- Mounting Ears
1- IR Receiver Cable (5 ft)
1- User Manual